Officer Snook Water Pollution Program
BRIEF HISTORY OF THE OFFICER SNOOK PROGRAM
The Officer Snook Water Pollution Program is a large-scale educational initiative which educates children and adults about the causes, effects and solutions to water pollution. In 1994, the Officer Snook Program was incorporated into the U.S. Coast Guard Sea Partners Campaign. Since its inception, the Program has expanded tremendously and today targets a variety of audiences using multiple educational methods and community activities nationwide and abroad. To date, the Officer Snook Program has educated well over 10 million students and over 350,000 educators nationally.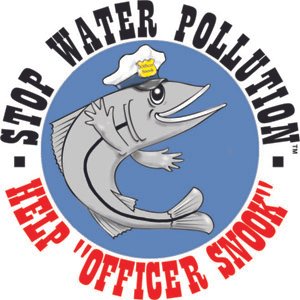 GOALS AND OBJECTIVES OF THE OFFICER SNOOK PROGRAM
The Officer Snook Water Pollution Program's goals include the education of the general public on topics pertaining to water pollution, the ability to provide opportunities for action to be taken in communities to reduce pollution, and aid in the prevention of future water pollution problems. Through the Program, individuals learn about the causes, effects and solutions to water pollution, specifically as they relate to watersheds, aquatic and marine organisms, water quality, water conservation, human health and safety, and commercial and recreational water use; as well as waste reduction and disposal on land and water. The Officer Snook Program complements other existing programs by emphasizing the interrelationship between land and water systems and how human actions impact these systems. The Program is long term and addresses issues of critical concern to specific areas, while initiating needed education and action in communities.
Key objectives of the Officer Snook Program are as follows
Educate students about water pollution issues and encourage responsible behavior, problem solving and decision making that will sustain marine and aquatic environments.

Educate teachers about the important topic of water pollution, encourage water pollution education in existing school curricula and provide educational materials for use in the classroom.

Encourage recreational water users to protect the valuable resources they enjoy and to provide information, materials and assistance in support of this effort.

Improve knowledge and compliance of environmental protection laws and regulations and encourage citizen reporting of pollution violations.

Increase community involvement through volunteer participation in and sponsorship of community events. Encourage youth, residents and visitors to take an active role in educating others.

Enhance and complement existing environmental programs by establishing partnerships with individuals, businesses, organizations and agencies; to exchange resources, information and ideas in order to prevent pollution and protect water resources.
Officer Snook threw out the first pitch at the Florida Marlins baseball game on August 4, 2007.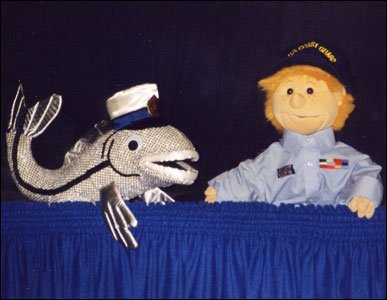 The Officer Snook Puppet Show, designed for children in Kindergarten and the 1st Grade, is both educational and fun for all involved.
OVERVIEW OF PROGRAM COMPONENTS
Officer Snook, a cartoon fish, is a symbol of protecting our water environments worldwide. The Officer Snook Water Pollution Program has been developed around this character to educate young individuals and adults about the importance of pollution prevention.
The Officer Snook Program targets children and adults of all ages. Officer Snook presentations are tailored specifically to the age level and geographic region of the audience, and may include a puppet show, stuffed animal demonstration, role-playing, field trips, slides, videos, hands-on activities, interactive discussions, workshops and guest speakers from a variety of governmental agencies and organizations. Presentations are conducted for a multitude of youth groups and organizations including school classes, environmental clubs, religious groups, scout organizations, summer programs, museums and fishing clubs. To incorporate the Officer Snook Program into existing school curricula, teacher workshops are conducted and educators are provided with a number of environmental resource materials.
Community activities and events are other means used to educate and motivate people in pollution prevention and environmental protection. The Program supports and participates in community cleanups, storm drain stenciling programs, tree planting events, marina and fishing events and student contests, to name a few. Newspaper, radio, television and the Internet also play an important role in informing a broad audience about the goals and objectives of the Officer Snook Program. Additionally, mobile booth displays and exhibits at museums and public facilities are visited by thousands of individuals on a continuous basis. These displays not only inform young visitors about environmental issues, but serve as a reminder as to their role in pollution prevention. Educational literature and informative materials, including coloring books, comic books, educator guides, activity books, flyers, posters, stickers and trash bags are distributed at presentations and events. An Officer Snook costume makes appearances at special events and parades, and is certainly an attention getter and crowd pleaser. The Officer Snook Program offers multilingual educational materials in English, Spanish and Creole that are distributed at presentations and community events.
The Officer Snook Program has partnered with many agencies and organizations, including the EPA, DEP, Florida Fish and Wildlife Conservation Commission, DC Fisheries and Wildlife Division, Wildlife Conservation Society, North Carolina's Cape Fear River Watch Program, Hillsborough County, Indian River County, Miami-Dade County's Department of Environmental Resources Management (DERM), the Florida Marlins, the Florida Aquarium, the New York Aquarium, and the Yamaha Contender Miami Billfish Tournament, to name a few. 
The U.S. Coast Guard and the Coast Guard Auxiliary have been one of the Program's main partners. Each year, hundreds of Officer Snook programs are given throughout the country by U.S. Coast Guard Sea Partners and members of the Coast Guard Auxiliary.
From 2005-2018, the Officer Snook Program partnered with Norwegian Cruise Lines (NCL) to educate young people about the impacts of marine pollution and ways to prevent it. Norwegian Cruise Lines incorporated elements of the Officer Snook Program into their NCL Kids Crew program onboard all of their ships, which included fun and educational activities for children and youth of all ages. There was also a teen component that allowed junior and senior high school students to earn community service hours.
Officer Snook and the Coast Guard participate in a Jr. Orange Bowl Parade in Miami, Florida.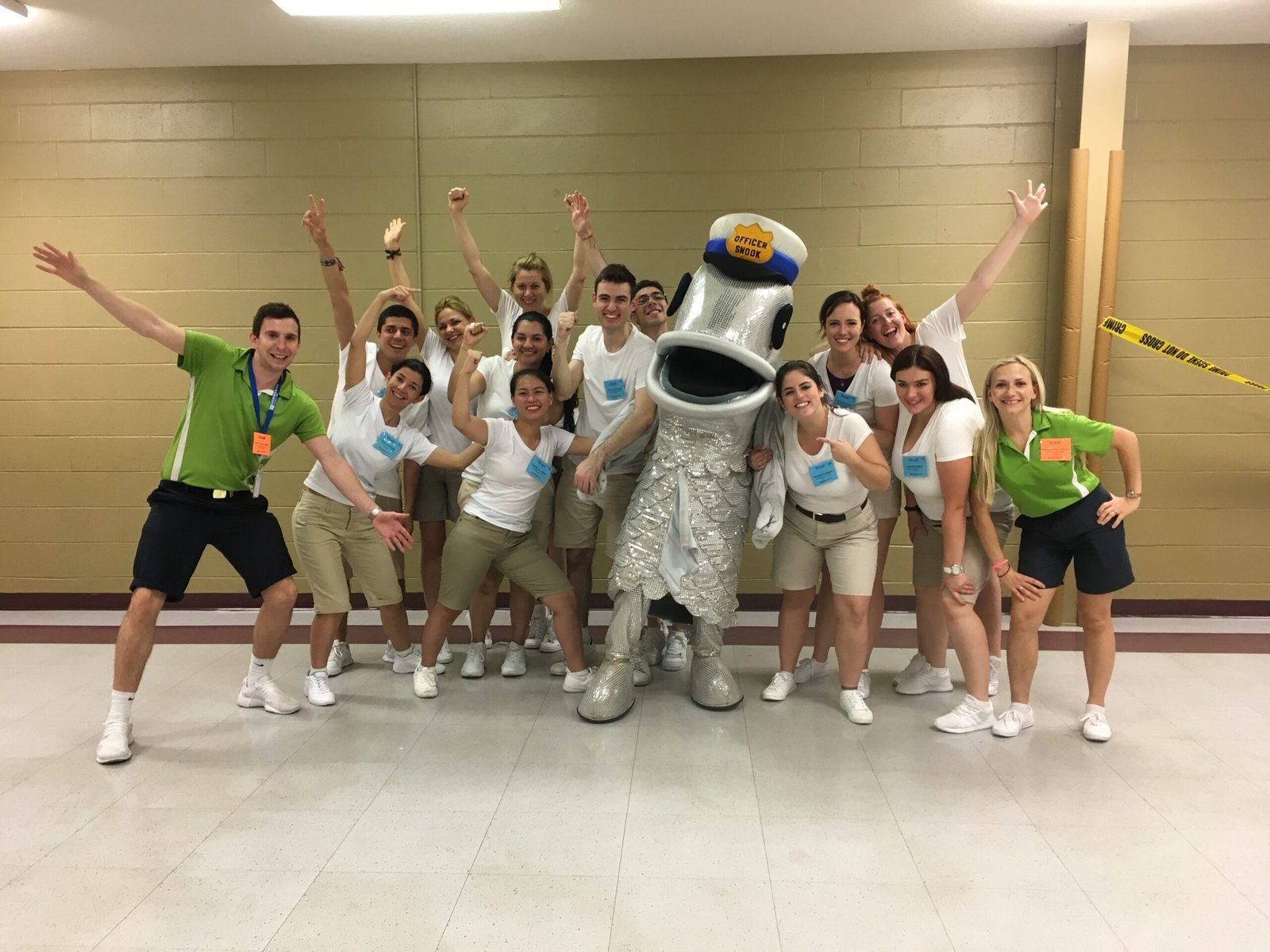 Officer Snook and NCL staff join forces to stop water pollution!​
CONFERENCE PRESENTATIONS AND WORKSHOPS
Over the years, the Officer Snook Program has presented at various high profile conferences, including the International Marine Debris Conference, the Florida Caribbean Cruise Association Conference, the Gulf of Mexico Symposium, the National Science Teachers Association Conference, the White Water to Blue Water Conference, the Biennial International Oil Spill Conference and the International Coral Reef Symposium, to name a few.

In addition to conference presentations, the Program conducts professional development workshops for educators, community partners and governmental agencies.
The Officer Snook Water Pollution Program continues to establish itself as a highly recognized, respected and successful educational program. The Program's components are unique, target audience specific and carry a simple and clear message. Officer Snook materials and presentation requests continue to exceed available resources. The Officer Snook Program and its creator are recognized in communities across the nation and have won numerous awards both on a regional and national level. Recognition includes the Governor's Environmental Education Award of Florida, the Keep Florida Beautiful Award, the President's Service Award Citation signed by President William Jefferson Clinton and the U.S. Coast Guard Certificate of Merit.
*All Officer Snook Water Pollution Program Materials are created by 7-Dippity.
Let 7-Dippity create an educational initiative for you. Contact 7-Dippity for information.
Officer Snook's Marine Debris Biodegradation Timeline Poster​